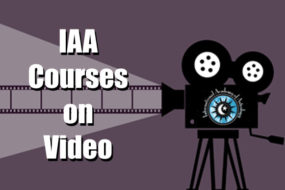 IAA offers video-based courses on various astrological topics, which you can use to study completely on your own schedule without the necessity of attending live classes. These courses consist of anywhere from two to six classes and are taught by experts in the field. The videos were recorded during actual class sessions, so you also gain the benefit of the feedback and questions of students just like yourself — it's not just a "talking head" lecturing at you.
These courses are made available through the IAA Media Studio at Vimeo. You can purchase the course and have access to it forever, or you can "rent" the course for a lower price for seven days' access. Either way, you gain the benefit of classes that might not have been available to you in any other fashion.
Psychological Astrology of Babies, Children, and Teenagers
4 classes
Featuring Noel Eastwood
Horary Astrology: Jobs, Business Decisions, Buy/Sell
5 classes
Featuring J. Lee Lehman, Ph.D.
Introduction to Horary Astrology
3 classes
Featuring Elena Lumen, Ph.D.
Introduction to Electional Astrology
3 classes
Featuring Elena Lumen, Ph.D.
The Ascendant: Your Entry Vehicle
4 classes
Featuring Jodie Forrest
Astrology and Addictive Behavior Uncovered
4 classes
Featuring Linda Furiate
Sky Matters: Astronomical Frames of Reference
4 classes
Featuring Gary P. Caton
The Venus Phases: Our Broader, Deeper, Richer Self
4 classes
Featuring Adam Gainsburg
Astronomy and Astrology of Eclipses
2 classes
Featuring Gregory Clare
Symptom and the Soul: The Nature of Astrology, Disease, and Healing
6 classes
Featuring Brian Clark
Fate and the Family: Patterns Through the Generations
4 classes
Featuring Brian Clark
You can find many more lectures and webinars on a wide variety of astrological topics at the IAA Astrology Media Studio. Many you can watch for free!