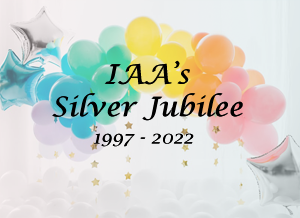 Silver Jubilee Webinars
IAA is turning 25 years old! Come and celebrate with us as we launch our birthday with four special Silver Jubilee webinars.
You can sign up for any or all of the Silver Jubilee webinars. A single Silver Jubilee webinar is $35, and all four Silver Jubilee webinars purchased as a package are $100. Click on the links below for more information. You can register for the individual webinars or register for all four together at the bottom of this page.
Whichever option you choose, you will receive access to the webinar recordings, even if you do not attend the live sessions.
Please note: Pluto in Aquarius with Nadiya Shah is scheduled from 3:00 – 4:30 pm et.
"Taming Transits" with Sam Reynolds on February 13, 2022
Instructors
Alexis Duong

Social Media Specialist

Alexis has been studying astrology for 4 years, starting off her astrological studies and interactions with the astrology community with her blog on Tumblr, eventually moving to Twitter. Since then, she has studied, interacted, and worked with astrology in the context of social media. She specializes in natal astrology and mixes the modern and traditional astrological traditions. She is passionate about making astrology accessible to the masses, especially younger astrologers.

Darby Costello

Guest Speaker

Darby Costello was born in America and studied astrology in Boston in the 1960s with Francis Sakoian and Louis Acker and then Isabel Hickey. From there she went to Africa, where she worked with tribal healers and diviners for many years, while developing her astrological practice. In 1983 she went to London looking for an astrological community. To her delight, she found it and is involved with it at many levels. She began building an astrological clientele soon after arriving, and in 1988 began teaching at the Centre for Psychological Astrology, founded by Liz Greene and Howard Sasportas. She wrote several books for the CPA Press and became Head Tutor after some years.
Darby teaches regularly for the Faculty of Astrological Studies from which she received an Honorary Diploma in 2014. She is a teacher for the webinar schools MISPA and Astrology University, and is a visiting tutor for The London School of Astrology. She teaches and lectures throughout Europe and in other parts of the world and has given seminars in far flung places such as Bali, China and Taiwan, and in many parts of North America, including Alaska. In 2013 she received the Charles Harvey Award for Exceptional Service to Astrology.
In 2006 Darby received a Master's Degree in "Cultural Astronomy and Astrology" at Bath Spa University. This has given her a greater taste for history and a deeper love of writing. However, her first love in astrology is doing charts and her worldwide clientele is the ground out of which her astrological inspiration is nourished.

Nadiya Shah

Guest Speaker

French Vanity Fair named
Nadiya Shah one of the top 12 astrologers on the planet, crowning her a pioneer in video astrology. She is an Internationally Syndicated Astrologer, Author, Media Personality, and is one of the few people in the world to hold an M.A. in the Cultural Study of Cosmology and Divination, from the University of Kent, United Kingdom.

Her last 3 books debuted as #1 New Releases in New Age Astrology on Amazon. Her School "Synchronicity University" teaches astrology and tarot worldwide. Nadiya's wildly popular Youtube channel, nadiyashahdotcom, is one of the most watched Astrology channels in the world.

Samuel F. Reynolds

Board Member, Instructor

Samuel F. Reynolds, ISAR CAP, NCGR-III, a former skeptic, had a life-changing visit to an astrologer and has since spent 30 years doing charts and studying astrology.

He currently serves on the board of directors for the International Society for Astrological Research (ISAR), the International Academy of Astrology, and the Astrology News Service. He's also a co-founder of the International Society of Black Astrologers, and a faculty member for the International Academy of Astrology.

He's written for multiple print and online outlets, including Ebony.com, horoscope.com, tarot.com, and New York Magazine.

Website: http://UnlockAstrology.com