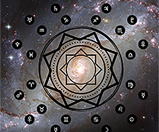 ATTENTION: The instructors has asked that there be at least 4 students per class to open the course. Please email cfo4iaa@gmail.com if you are interested in any of these classes so we can get them started.
Heavens above!
In times of difficulty, no matter how "evolved" and "scientific" we think we have become, we still look to the sky for comfort and guidance.
Recognizing this, IAA is pleased to complete its calling to offer astrology to all age groups. The Astrology for Teens course, in two tiers, is for young people ages 12-18 who wish to understand themselves more thoroughly by studying their charts under the guidance of professional schoolteacher and astrologer Alex Trenoweth.
In this cross-curricular course, young people will begin to understand the meanings of planets, signs, houses and aspects in their own charts in preparation for undertaking the responsibility of interpreting the charts of friends and family and eventually clients. Music, history, mythology, art and astronomy are also components in this exciting course, with ethics in astrology underpinning all that is offered. Materials provided are age-appropriate, and student participation not only develops astrological skills but aids with understanding English, math, science and other subjects.
These courses are taught in two tiers: ages 12-14 and ages 14-18.
Please note: As with all IAA classes, class sessions in the Children's Department are recorded. However, these recordings are only distributed to registrants, and only at the discretion of the instructors. Please contact your instructor if you have any questions. Please read our Audiovisual Release for important privacy information.
Please also read the special Terms and Conditions for participation in the teens' classes.