One person out of a hundred can learn astrology on their own, the rest need to enroll here

!
Lineup of Next Semester's Courses Starting in September…



To browse our full selection of courses select "Class Offerings" on the top menu. All courses are taught online, so you can attend class from anywhere! Our next semester begins the week of 10 September…
Beginner Classes:
Professional Studies:
Upcoming Webinars & Pocket Courses:
Astronomy & Astrology of Eclipses with Gregory Clare first class begins on Friday, 31 August, second class Friday, 7 September at 7:30 PM EDT
Solar Arcs: The Sun's Courtiers – Half-day Workshop

with

Jodie Forrest

on Saturday, 8 September at 1:00 PM EDT

Untying the Knots of the Twelve-Letter Alphabet with Joseph Crane on Saturday, 15 September at 6:30 PM EDT
Symptoms and the Soul:Emotional, Psychological and Physical Wellbeing a six-part series into the nature of astrology, disease and healing …with Brian Clark first class begins on Tuesday, 25 September (6 weeks on Tuesdays) at 7:30 PM EDT
The Age of Soul in Karmic Astrology with Aleksandar Imsiragic on Saturday, 29 September at 3:00 PM EDT
Great Conjunctions and How They Shift our Paradigm with Chris McRae on Friday, 12 October at 7:00 PM EDT
WHo We Are
Check out this short video to learn a little bit about IAA and our educational program: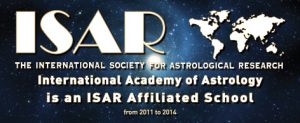 The International Academy of Astrology

is an

ISAR-affiliated school.
This means that
graduates of IAA
fulfill the main requirements to obtain an
ISAR CAP
(
Certificate of Astrological Proficiency
).

The International Academy of Astrology
is affiliated with
NCGR.
Graduates of IAA
are eligible to apply for
Level IV of NCGR certification
,
bypassing the need to take Levels I, II and III exams.

IAA Mission Statement
International Academy of Astrology aspires to be the leader in online astrological education, dedicated to instilling our students with a commitment to a lifetime of learning, while empowering them to become professional astrologers of the utmost competence, integrity, and compassion.
Notice of Nondiscriminatory Policy as to Students
OCA, Corp., admits students of any race, color, national and ethnic origin to all the rights, privileges, programs, and activities generally accorded or made available to students at the school. It does not discriminate on the basis of race, color, national and ethnic origin in administration of its educational policies, admissions policies, scholarship programs, and other school-administered programs.